You work hard in the Newtown Square, Glen Mills, and Malvern areas, so why shouldn't you get a truck that does the same for you? There are many options for pickup trucks out there, but some offer a bit more than others. Only one, however, is able to be the 2018 Motor Trend Truck of the Year®.
The 2018 Ford F-150 contains many desirable features, and now it contains another one: being the Motor Trend Truck of the Year®. With its unrivaled capability, it's the clear choice for anyone looking for a light-duty pickup truck. Learn about the Ford F-150 and what makes this impressive pickup the Motor Trend Truck of the Year®. And if you have any questions while reading, don't hesitate to contact us at Fred Beans Ford of West Chester.
Rewarding Risks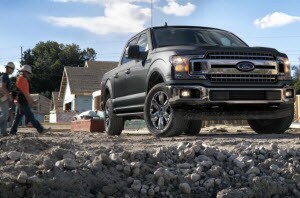 Not too long ago, Ford decided to revamp their F-150 model to be made of lightweight aluminum rather than high-strength steel. This decision was met with criticism from the rest of the automotive industry, with claims that the change would be too costly. For a while, they were right. Ford closed down factories to revamp their entire process and suffered a loss during that time. After the transition was complete, however, the new F-150 was a force to be reckoned with.
With its new aluminum frame, the F-150 was lighter yet sturdier, offering the best of both worlds. Ram's trucks were no longer more fuel efficient, and Chevy's trucks were no longer tougher. That was just the 2015 model, though. The 2018 Ford F-150 offers capability and a safety rating of five stars.

A New Framework
The lighter chassis truly transformed the F-150 and changed what we know to be a pickup truck. The frame is made of high-strength, military-grade, aluminum alloy, which not only decreases the weight of the truck, but improves its toughness, as well. The weight and strength are the primary reasons why you'll find such an expected fuel efficiency and safety rating.
The most important aspect in any truck, however, is its capability. Fortunately, the aluminum frame helped with that, as well. With its 700-pound cut from the old version, the new F-150's engine doesn't have to work as hard to move the truck along. That means more power is available for towing and payload purposes.
Towing & Payload Capacity
While the Ford F-150 has numerous best-in-class features, the two most exciting are arguably the payload and towing capacity. Load up the bed of your F-150 with peace of mind, as it can hold up to 3,270 pounds. If that's not enough, just throw your cargo into a trailer and haul it. With its 13,200-pound towing capacity, the Ford F-150 can carry more cargo than any other truck in its class by far.

Check Out the 2018 Ford F-150
Motor Trend doesn't give out their Motor Trend Truck of the Year® award arbitrarily. The Ford F-150 worked hard to earn it. Come see it for yourself at Fred Beans Ford of West Chester. Our team is happy to show off this award-winning pickup to drivers like you throughout Newtown Square, Glen Mills, and Malvern.
Don't wait. Visit us today!