Not all jobs in the Newtown Square, Glen Mills and Malvern areas are created equal. Some require truly unparalleled levels of power and capability to get done. That's why it's so important that you find the right pickup truck best suited for your needs. With so many options out there, the choice may be tough.
The 2018 Ford F-350 tends to stick out. However, Ford Trucks are a great option in general. With its numerous rugged features and capabilities, the Ford F-350 might be the answer you're looking for. Learn more about this incredible piece of engineering in our detailed 2018 Ford F-350 review.
F-350 Towing Capacity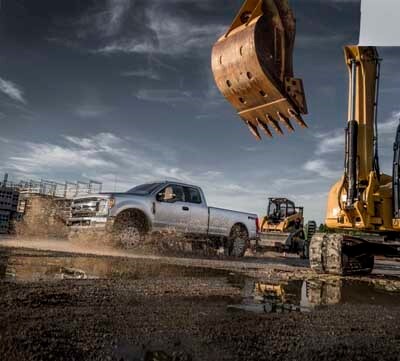 A truck is only as good as how much it can haul, and the Ford F-350 can haul plenty. In fact, the F-350 features a best in class towing capacity of 34,000 pounds. No other truck can come close to that number. If you don't want to opt for the additional equipment necessary for that incredible capacity, you can still enjoy a standard 21,000-pound towing capacity.
The payload capacity is impressive at at a satisfying 7,630 pounds. With that kind of capability, you don't have to hesitate on loading up the back with brick, slate or any other heavy material. Ford has always taken upgrades seriously which is why the F-350 nearly doubles what the F-250 can do.
Ford Performance
The incredible feats that the F-350 are capable of are due in large part to what's under the hood. At its top level, you'll find the incredible 6.7-liter Power Stroke V8 Turbo Diesel engine. This bad boy produces up to 450 horsepower and a truly impressive 935 lb ft of torque. With a 4x4 drive type and TorqShift 6-speed SelectShift Automatic, this truck is as thrilling as it is efficient.
Speaking of efficiency, Ford's entire F series was revamped a few years back to feature an aluminum body in place of steel. While this material is considerably stronger, it's lighter as well. Since the vehicle weight it so much lower than you might think, you get to enjoy a better weight to power ratio as well as greater fuel efficiency.
Technology
Plenty of pickups are powerful, but only the F-350 includes the SYNC 3 infotainment system. With virtually unrivaled connectivity and intuitiveness, this system can turn the cabin of your Ford F-350 into a mobile office. In terms of performance, the F-350 includes trailer sway control which keeps your haul under control at all times.
Test Drive the 2018 Ford F-350
Come see everything the Ford F-350 can offer for yourself at Fred Beans Ford of West Chester. Our friendly team is happy to show off every inch of this incredible truck and let you take it for a spin. With our help and knowledge, you'll be able to determine if the Ford F-350 is right for you or if you'd be better with one of our many other Ford trucks. Visit our showroom today.