Pinkies Out, Bottoms Up!
Whether you're having a couple of beers with friends, celebrating a special occasion, or catching an Eagles, Phillies, or Flyers game, having several go-to bars in your area on tap is essential.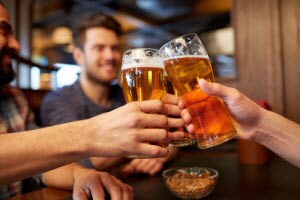 West Chester residents, today's your lucky day. We scouted out and reported on the three BEST bars in West Chester. Read about them below, and try them out for yourself the next time you're downtown!
Levante Brewing Company
There's nothing like sitting mere feet away from tanks of beer in process while you sip a pint and chat up the brew master. If craft beer is your drink of choice, lasso yourself a seat at the Levante Brewing Company taproom. You won't be disappointed.
At any given time, Levante has over a dozen beers on tap, including a wondrous lineup of fruit-forward beers and IPAs. Local food trucks stake out Levante's lot until 9:00 PM (or until everything's sold out), so you can pair your brew with local noshings. Mobile kitchens with a knack for BBQ, surf n' turf, pizza, or roast beef may be on site when you visit.
Side Bar & Restaurant
You should never judge a book by its cover, but taking a peek at a bar's late-night menu or peeping their Business of the Year award from Greater West Chester Chamber of Commerce is a pretty good indicator of what's in store.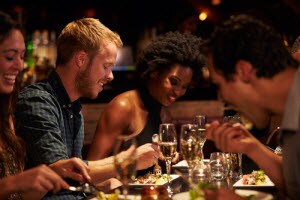 After a couple of beers or cocktails, you'll be craving Side Bar & Restaurant's Jumbo Wings done up in a Thai Chili sauce with crushed peanuts, or a 3-Cheese Quesadilla.
Taco lovers have met their match at Side Bar, where five specialty late-night taco sliders take center stage. One of the house favorites is a delightful soft-shell bundle of beer-braised chicken, fresh slaw, pico de gallo, cotija cheese, chipotle ranch, and rice.
Sprout Music Collective
Live music really raises the bar experience, something that member-based West Chester bar and music club Sprout Music Collective has down to a science. For a modest $5 per year, you get entry to Sprout's special live music shows and rustic dining room.
Order a glass of local beer from hometown Levante Brewing or Phoenixville's Sly Fox to match to a flavorful flatbread or tasty plate of tapas. Vibrant cocktails like the Harvest Mule, made from house-infused black-honey chai and ginger vodka are a must-try!
Stop by these West Chester bars the next time you've got a hankering for great eats, perfected brews, and stellar service!