History was made in 1796. The owners built a bell tower at the White House hotel and installed a blue bell within it. In 1840, residents voted to change the name of the town to Blue Bell, in honor of the hotel bell, and the name stuck. You can still head down to the Blue Bell Inn and experience Happy Hour with their famous buck-a-shuck oysters!
How To Get to Blue Bell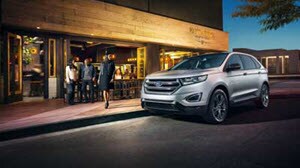 How can you get to Blue Bell and experience a stay in that wonderfully historic hotel? Well, you'll need reliable transportation, namely a good car. If you're looking for a reliable Ford dealer near Blue Bell, PA, Fred Beans Ford of West Chester invites you to come down and experience what buying a new Ford can be like!
From our extensive inventory to our excellent service department, Fred Beans Ford of West Chester treats you like you're family.
Family Owned and Operated
Fred Beans has been in the car business since the 1950s, and Mr. Beans still shows new employees the ropes today. With many of Mr. Beans' children at the dealership, it's definitely a family atmosphere.
We have an extensive inventory of all the latest Ford cars, trucks, and SUVs. We pride ourselves on training our sales staff in house, so they are prepared to answer any questions that you might have and do it with a smile!
Our finance experts are great at tracking down banks and lenders that can help get you in the car of your dreams. We know people come through our door with credit and other financial situations. We try to be as helpful as possible and set you up with a deal that fits into your life and budget.
Bargains and Rewards Galore
At Fred Beans Ford, we offer lots of specials and incentive programs. It's easy for you to check out our website before you come to the showroom and see what special deals we are currently offering!
But, that's not all. Our dealership has an exclusive rewards program to reward our loyal customers. You can read all about the details on our website. Every time you make a purchase, our exclusive AutoRewards program gives you points. Keep the points coming; it won't be long before you see a token of our appreciation!
So, come down and see us at Fred Beans Ford of West Chester, the most reliable Ford Dealer near Blue Bell, PA also serving Newtown Square, Glen Mills and Malvern. The pigeons in Blue Bell may be gone, but the deals have come home to roost! Contact us today to schedule a test drive.