The community of Glen Mills, PA is a beautiful small town on the southeastern edge of Pennsylvania, close to New Jersey. The land can be traced all the way back to William Penn and his original land grant in 1681. The name comes from two paper mills that operated in the town, but both have since fallen. The last mill to stay standing is the Newlin grist mill, built in 1704.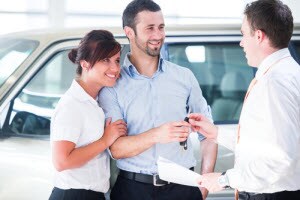 After over 300 years, the grist mill is a popular destination for tourists and residents alike. If you're a history buff, you might enjoy the historical significance of the mill, recognized in 1983 by the National Register of Historic Places. If that's not your interest, though, you can always have a picnic in the open picnicking area nearby and enjoy the beautiful countryside. Golf courses and wineries are also present throughout Glen Mills, including the Golf Course at Glen Mills and Grace Winery.
If you want to treat yourself to all Glen Mills can offer, there's no better way to do so than by driving a reliable Ford vehicle. Ford builds their vehicles tough, so they can withstand just about anything you might run into in Glen Mills. Learn how our Ford Dealer Near Glen Mills, PA can serve you.