If you're like other drivers in the Newtown Square, Glen Mills and Malvern areas, you've probably considered getting an SUV at one point or another. These incredible vehicles feature massive storage space for cargo and passengers. Their comfort and style are also famous, which has lead to increased popularity. With that, however, comes more models to choose from, so how do you know which is best?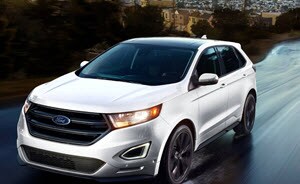 Two of the best SUVs available are the 2017 Ford Edge and the 2017 Ford Escape. Choosing the right SUV can be difficult, but with this comparison, you can ease your search by learning the differences between the Ford Edge vs Escape.
Ford Edge vs Escape - Working for You
For any reliable SUV, it needs to cater to your needs. If you're interested more in power, the Edge is the way to go. The Edge packs an impressive 245 horsepower at its lowest trim level. At the highest trim level available for the Escape, you can only get 179 horsepower. There's no contest when it comes to power.
If horsepower is really important to you, the Edge's Sport trim features an incredible 315 horsepower. Keep in mind, though, that the extra power causes fuel economy to suffer. The Edge Sport only gets an EPA estimated 20 mpg while the Escape gets an EPA-estimated 24 mpg. The towing capacity also drops down to 2,000 pounds for the Edge while the Escape can boast a 3,500 pound capacity.
A Comfortable Ride
An SUV has to be comfortable and spacious to compete in the modern marketplace, and neither of these SUVs disappoint. However, the Edge features more headroom for all passengers and an additional 3.6 inches of legroom for rear passengers to enjoy.
Quiet rides have become expected in modern vehicles, and both of these SUVs have remarkably quiet cabins. The only exception is the Edge's Sport trim, where design focused more on performance than comfort. The SYNC 3 infotainment system is present in both, offering unrivaled functionality and sound, allowing you to make calls, play music, access navigation systems and more.
Hauling Cargo
In terms of raw cargo capacity, the Edge is superior. With a max 39.2 cubic feet, the Edge reigns supreme over the Escape's 34.3 cubic feet. If you put the seats down, both SUVs get quite the increase in space, but the Edge still wins out at 73.4 cubic feet compared to the Escape's 67.8 cubic feet.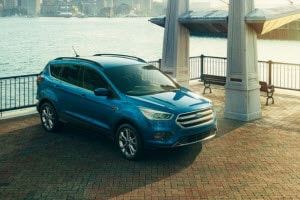 With the increased storage space, however, comes increased overall size. The Edge is considerably bulkier than the Escape, which may make it harder to drive for some people. The Escape's turning diameter is noticeably better at 38.8 feet compared to the Edge's 39.3 feet.
Ford Edge vs Escape - Test Drive
Choosing which of these incredible SUVs is best for you depends largely on what you're after. Experience both the Ford Edge vs Escape at Fred Beans Ford of West Chester to better understand what they can offer you. Our expert team has been helping customers in the Newtown Square, Glen Mills and Malvern areas for years and is happy to help you too. Visit us or call (888) 851-3306 to schedule your test drive today!