More and more people in the West Chester, Glen Mills, and Malvern areas are leasing rather than buying and for good reason. There are numerous benefits to leasing, as it allows you to get behind the wheel of a stunning vehicle that may normally be outside your price range. One of the best examples of this is the Ford Escape.
Crossovers are versatile by nature, but the new Ford Escape takes it to the next level. When you lease rather than buy, it's easier than ever to drive this incredible crossover. You just need to find a place where you can enjoy the best Ford Escape lease deals in town. For service you can always count on, Fred Beans Ford of West Chester is happy to help.
Benefits of Leasing
Far too many drivers are hesitant to lease, because they crave that satisfaction of driving a car of their very own. While the feeling is no doubt satisfying, you won't technically own that new car until you've paid off the loan several years down the line, when the car is no longer "new." With leasing, you abandon the idea of ownership altogether, which may seem like a sacrifice to some, but the significantly reduced cost is usually enough to get over the downsides.
In addition to the savings, leasing also allows you to experience the latest and greatest models, like the new Escape, without having to pay the new car price. Even keeping up with maintenance is easy. You're still obligated to get regular maintenance done, but the cost is completely covered for you. When you're ready to move on, getting rid of the car is simple. All you have to do is drop your car off at the dealership and you're all set. Alternatively, you can trade it in for a new lease or buy it for a preset price unaffected by market fluctuations.
About the Ford Escape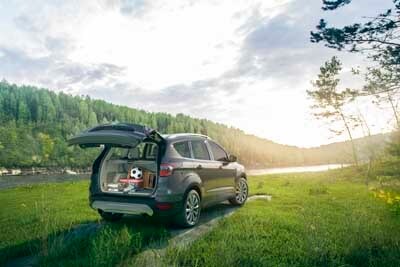 If you're looking for a crossover that can handle exciting adventures and your daily commute, the Ford Escape might be just what you're looking for. From its versatile seating and cargo combinations to its impressive performance, you'll have all the capability you'll ever need at your disposal. There are three engine options available, and all of them have something special to offer, allowing you to choose between efficiency, power, or a balance.
No matter where your adventure takes you, you can always count on the Escape to offer you a smooth ride. With its Intelligent 4WD system, an onboard computer constantly monitors traction and makes automatic adjustments when necessary to ensure you maintain control of your crossover. Additionally, the Escape features a 3,500-pound towing capacity, far more than you'd normally expect from a crossover this size.
Our Lease Deals
To find the best lease deals for your next Escape, there's no better place than our finance department. They have years of experiencing dealing with all kinds of budgets, so you can always count on them to come up with a contract everyone is satisfied with, even if your credit score isn't where you'd prefer.
We pride ourselves on being your answer for everything automotive, and we allow you to customize your lease deal as you see fit. You get to choose how long you want it to last, as well as how many annual miles you get to use. We even have ways for you to add on to your annual mileage at a later time if you discover you're driving more than you thought.
Visit Us for Ford Escape Lease Deals
When you're looking for Ford Escape lease deals in the West Chester, Glen Mills, and Malvern areas, Fred Beans Ford of West Chester has got you covered. Stop by or give us a call today to learn more about everything we can do to get you behind the wheel of a brand-new Ford Escape.