Your family deserves the best while you're enjoying your weekend getaway near West Chester, Glen Mills, and Malvern. So, when it's time for you to head down the road, make sure you're supported by impressive power, comfort, and technology.
And by choosing the 2018 Ford Escape or the 2018 Honda CR-V as your next highway comrade, you'll have plenty of strength to reach your destination. But to lead the pack like a true champion, only one of these SUV will give you what you need.
Let's see which of these agile vehicles crosses the finish line first by reading this 2018 Ford Escape vs. 2018 Honda CR-V vehicle comparison created by Fred Beans Ford of West Chester. Before long, you'll know which option is ideal for your family.
2018 Ford Escape

2018 Honda CR-V

Horsepower

245 horsepower

190 horsepower

Torque

275 lb-ft

179 lb-ft

Rear Hip Room

52.4 inches

49.5 inches

Front Leg Room

43.1 inches

41.3 inches

Touchscreen Display

8-inches

7-inches
Potent Performance for Your Journey
No matter where the road takes you, it's important to know that you're suited up with enough force to soar past other vehicles.
And to deliver on all your performance desires, the Ford Escape comes equipped with an optional 2.0-liter EcoBoost® engine that churns out 245 horsepower and 275 lb-ft of torque. Thanks to those numbers, you'll have no trouble surging forward when you're craving an exciting ride.
On the other hand, the Honda CR-V offers up an available 1.5-liter motor that produces 190 horsepower and 179 lb-ft of torque. While that may be an improvement on this SUV's standard engine, it certainly doesn't match the muscle showcased by its Ford competitor.
2018 Ford Escape vs. 2018 Honda CR-V: Comfort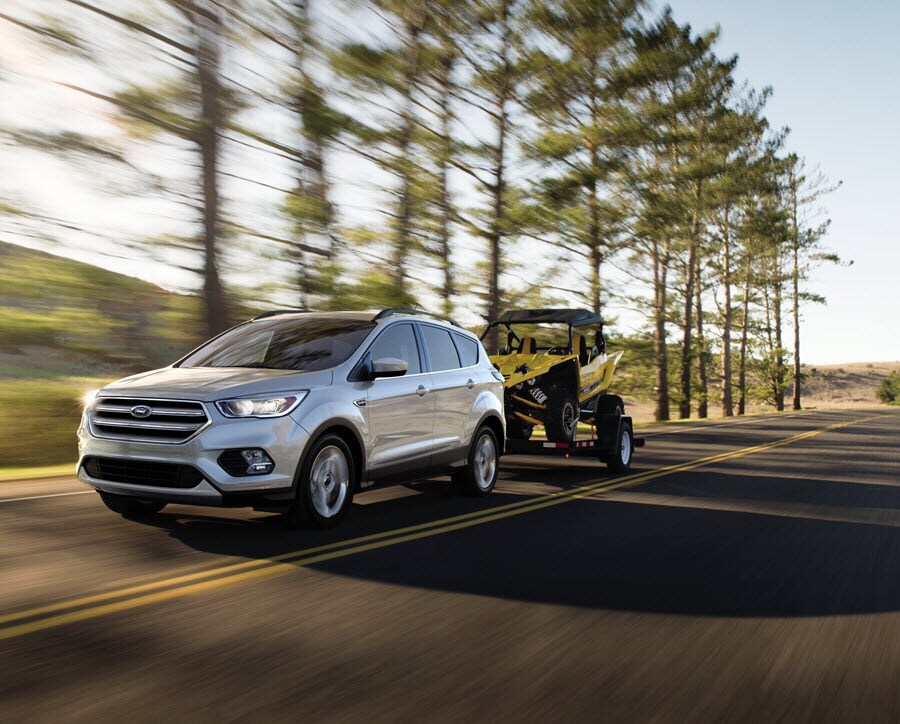 During those long road trips to your family's favorite campground, make sure that your vehicle's cabin is comfortable enough to help your little ones catch a quick power nap. Luckily, the 2018 Escape features a skillfully crafted interior that's armed with lots of room to move.
For example, the Ford Escape offers up 52.4 inches of rear hip room, meaning that you'll keep your kids from arguing over space. In addition, this SUV keeps front passengers relaxed with 43.1 inches of legroom. That way, you can unwind while focusing on what's ahead of you.
Alternatively, the 2018 CR-V presents only 49.5 inches of rear hip room, which could result in a less soothing ride for your children. And with only 41.3 inches of front legroom, you and your guests may not be able to fully stretch out.
Entertainment and Technology
Of course, you can't consider an automobile without taking a look at its entertainment system and cutting-edge gadgets.
That's why the 2018 Ford Escape comes dressed to impress with its available 8-inch display that operates the SYNC®3 infotainment setup. From the responsive touchscreen, you'll easily access tools like SiriusXM®, Apple CarPlay, Android Auto™, and more.
On top of that, this SUV allows your family to connect to their favorite devices with the optional 4G Wi-Fi hotspot. By opting for this gadget, your kids can play games and watch moves from their smartphones, tablets, or anything else.
And while the 2018 Honda CR-V provides some entertainment amenities, it's touchscreen maxes out at 7-inches. Furthermore, this SUV doesn't come with an available Wi-Fi hotspot, making it more difficult to keep your loved ones happy during long drives.
2018 Ford Escape vs. 2018 Honda CR-V Vehicle Comparison: Verdict
Every minute you spend on the roads of West Chester, Glen Mills, and Malvern should be equipped with top-notch versatility and conveniences. And with the 2018 Ford Escape supporting you on your next adventure, nothing will stand between you and a thrilling ride.
Don't wait around to learn more about the other tools this SUV has to offer. Stop by the showroom at Fred Beans Ford of West Chester or schedule your test drive today!