Crossover SUVs may be the best, most-versatile family vehicles on the market today. There's a good reason why they're all over the roads of West Chester, Malvern, and Glen Mills, after all: They offer a superior experience when it comes to balancing technology, comfort, and utility with great performance.
Year after year, Ford and Nissan consistently put out highly regarded vehicles in this class. However, which vehicle performs better for your everyday family needs? Find out which one is the better crossover SUV when the Ford Escape vs. Nissan Rogue go head to head. Then, learn where to take a test drive of your dream vehicle!
By the Numbers
Capacities - The 2019 Ford Escape offers a 15.7-gallon fuel tank-over a gallon more than the 14.5-gallon tank in the 2019 Nissan Rogue. The 2019 Escape also has a towing capacity of up to 3,500 pounds when properly equipped. The 2019 Rogue, on the other hand, has a maximum towing capacity of only 1,102 pounds. 
Engine Specs - The only engine in the Nissan Rogue is a 2.5L 4-cylinder engine that gets 170 horsepower and 175 lb-ft of torque. Meanwhile, the Ford Escape has three available engines to choose from. Both the available 1.5L Ti-VCT EcoBoost® and the 2.0L Ti-VCT EcoBoost® engines will produce even more power than the base option. The 1.5L EcoBoost® engine gives you 179 horsepower and 177 lb-ft of torque, while the 2.0L EcoBoost® engine ups the Escape's power to 245 horsepower and 275 lb-ft of torque.
Interior Dimensions - As far as space inside of each vehicle, they can both fit five passengers and boast the versatility to use the cabin for plenty of cargo. When you need to use all five seats, the rear passengers in the 2019 Escape will have more personal room to comfortably enjoy the ride. In the second row of the Ford Escape, passengers will get 39 inches of headroom and 52.4 inches of hip room. The rear seats in the Nissan Rogue, meanwhile, are supplied with just 38.5 inches of headroom and 52.1 inches of hip room.
Safety Features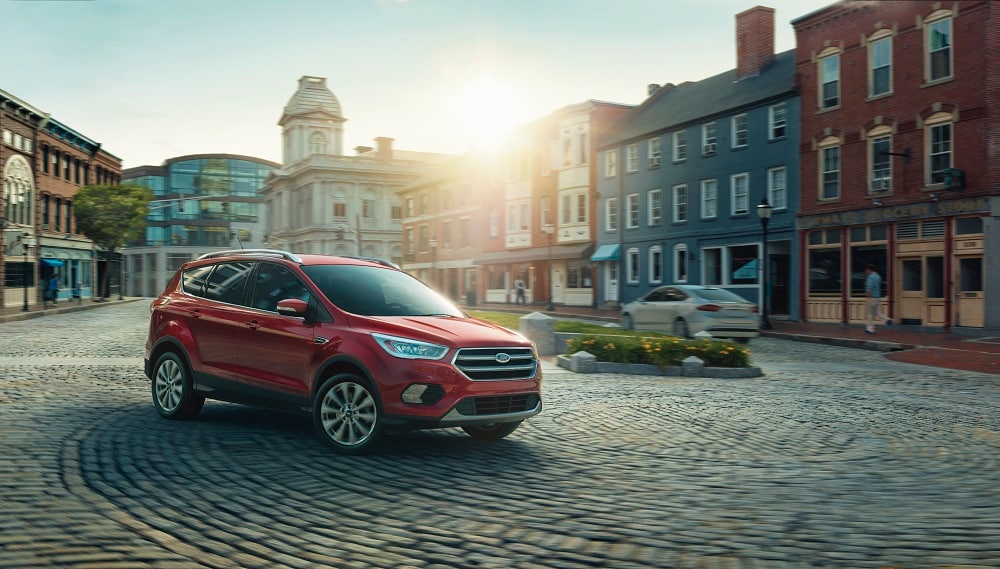 Both vehicles have available packages to provide you with extra safety and security features for when you're driving around. Various features available in both the 2019 Escape and the 2019 Rogue will be able to help you confidently reverse out onto the road and change lanes without a second thought. Plus, with these available assistive features, both cars will be able to quickly react in emergency situations, even applying the brakes to help you avoid a potential collision.
An additional feature available in the Ford Escape that's not offered in the Nissan Rogue is the Enhanced Active Park Assist. This available system will be able to help you parallel park by picking a spot with enough space for your car, then helping you steer and maneuver into the space. This technology can also help you in a variety of other situations, such as parallel parking, backing into a spot, or trying to safely exit a tight spot.
Want to Learn More About the Escape?
As you can see, the 2019 Ford Escape is a worthy choice for drivers who are looking for a new crossover SUV. If you happen to be in the Glen Mills, West Chester, and Malvern areas, Fred Beans Ford of West Chester has a wide range of options, packages, and trim levels available.
If you'd like to take a test drive, just stop by our showroom and ask about getting behind the wheel of this classic crossover today!