Crossover SUVs may be the best, most-versatile family vehicles on the market today. There's a good reason why they're all over the roads of West Chester, Malvern, and Glen Mills, after all: They offer a superior experience when it comes to balancing technology, comfort, and utility with great performance.
Year after year, Ford and Nissan consistently put out highly regarded vehicles in this class. However, which vehicle performs better for your everyday family needs? Find out which one is the better crossover SUV when the Ford Escape and Nissan Rogue go head to head.
Then, learn where to take a test drive of your dream vehicle! If you have any questions along the way, feel free to reach out to the team at Fred Beans Ford of West Chester.
2020 Ford Escape

2020 Nissan Rogue

Max Horsepower

250

170

Max Towing Capacity

3,500 lbs.

1,102 lbs.

Rear Headroom

39.9 in.

38.5 in.

Active Park Assist

Available

Not Available

Fuel Tank

Up to 15.7 gal.

14.5 gal.
2020 Escape vs Rogue: By the Numbers
Whether you're looking for a capable SUV, plenty of room inside for you and yours, or a performance engineered to impress, you'll find it all in the 2020 Escape and Nissan Rogue. However, when we take a closer look at the numbers, there are some big differences.
Capacities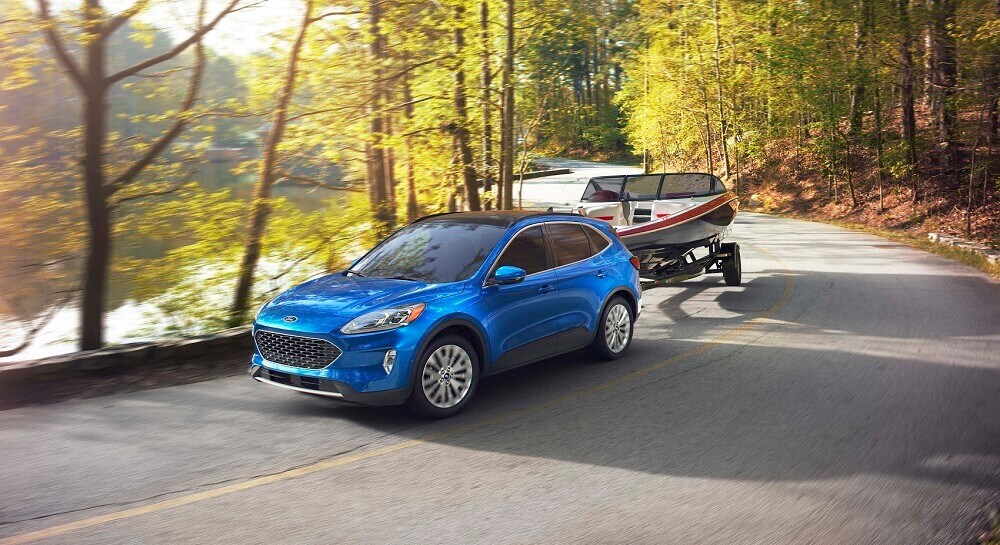 The 2020 Ford Escape offers a 15.7-gallon fuel tank, which is over a gallon more than the 14.5-gallon tank in the 2020 Nissan Rogue. Though both are around standard tank sizes for this class of vehicle, the Rogue may have you stopping at the gas station more often than the Escape.
The 2020 Escape has a towing capacity of up to 3,500 pounds when properly equipped. This is great for packing up the jet skis for a thrilling lake adventure or even a lightweight travel trailer for towing supplies. The 2020 Rogue, on the other hand, has a maximum towing capacity of only 1,102 pounds. Unfortunately, you won't be able to tow as much with this capability.
Engine Specs

The only engine in the Nissan Rogue trim lineup is a 2.5L 4-cylinder engine that gets 170 horsepower and 175 lb-ft of torque. Meanwhile, the Ford Escape has four available engines to choose from.
Additionally, all of these engines produce more horsepower, as well. Plus, if you opt for the elevated 2.0L powertrain, you'll rev up as much as 250 horsepower and 280 lb-ft of torque.
The Ford Escape also offers two hybrid engines, a traditional hybrid, as well as a plug-in hybrid that generate over 200 horsepower and 155 lb-ft of torque. The Nissan Rogue makes no hybrid or plug-in option available.
Interior Dimensions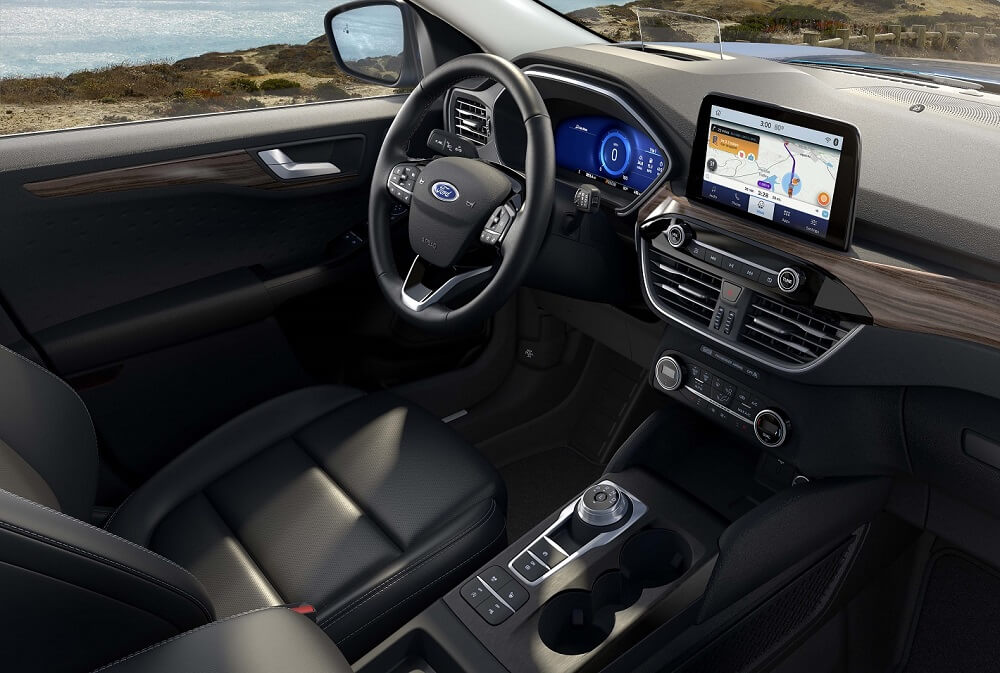 As far as space goes, these crossover SUVs can both fit five passengers and boast the versatility for plenty of cargo storage. When you need to use all five seats, the rear passengers in the Escape have more interior space to comfortably enjoy the ride.
In the second row of the Escape, passengers will get 39.3 inches of headroom and 53.3 inches of hip room. The rear seats in the Rogue, meanwhile, are supplied with just 38.5 inches of headroom and 52.1 inches of hip room.
Ford Escape vs Nissan Rogue: Safety Features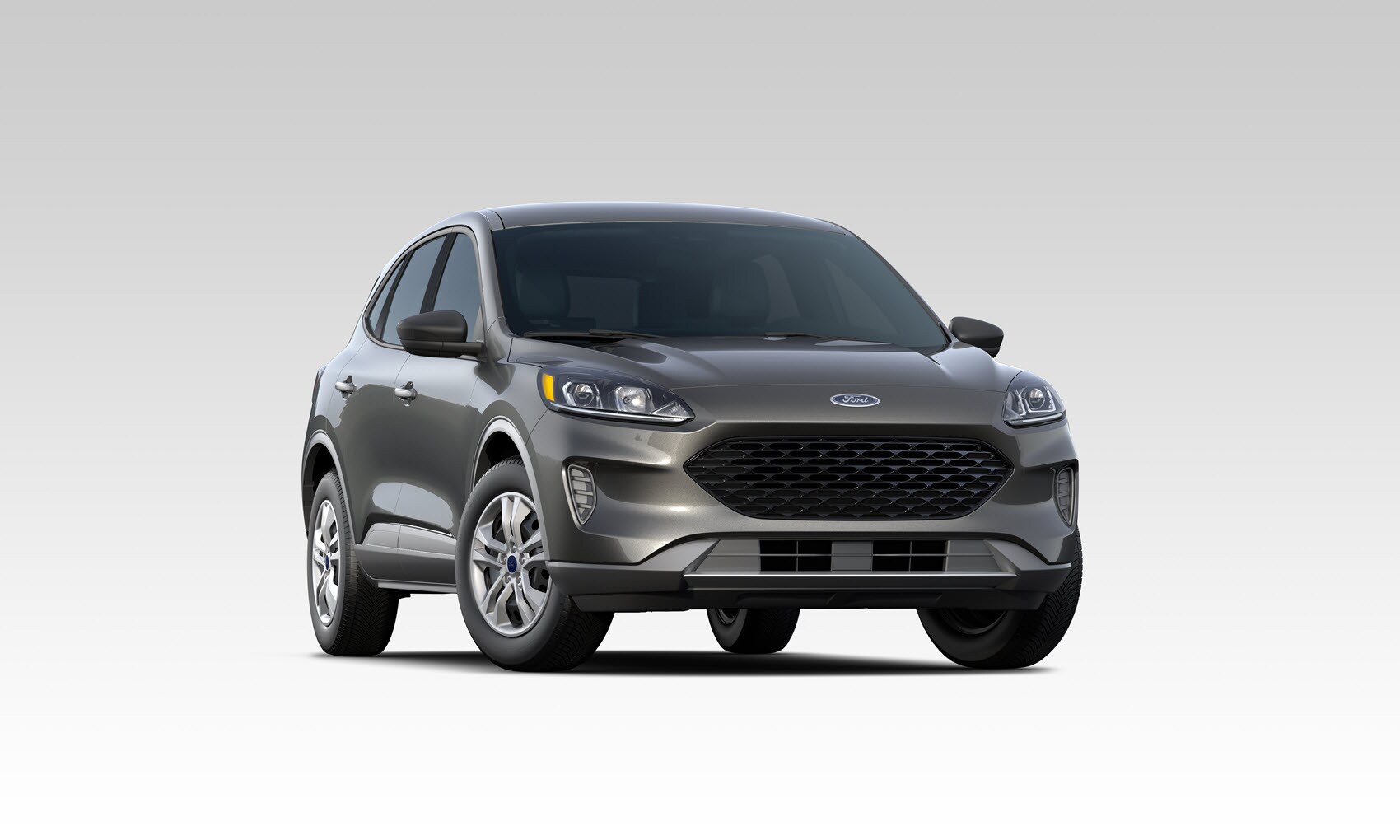 Safety behind the wheel is important, especially when you're traveling with your family. This is why both vehicles have available packages to provide you with extra safety and security features. Various features available in both the Escape and the Rogue will be able to help you confidently reverse out onto the road and change lanes.
Plus, with these driver-assisting features, both cars will be able to quickly react in emergency situations and can even apply the brakes to help you avoid a potential collision. Some of the driving aids you'll find available or standard in either model include:
Blind-spot monitoring systems
Cross-traffic alert systems
Automatic Emergency Braking
Automatic High Beams
Lane-Keeping System
An additional feature available in the Ford Escape that's not offered in the Nissan Rogue is the Enhanced Active Park Assist 2.0. This available system will be able to help you parallel park by picking a spot with enough space for your car.

Then, it will assist you by automatically steering and maneuvering into the space. This technology can also help you in a variety of other situations, such as parallel parking, backing into a spot, or trying to safely exit a tight spot.
Ford vs Nissan: Interior Technologies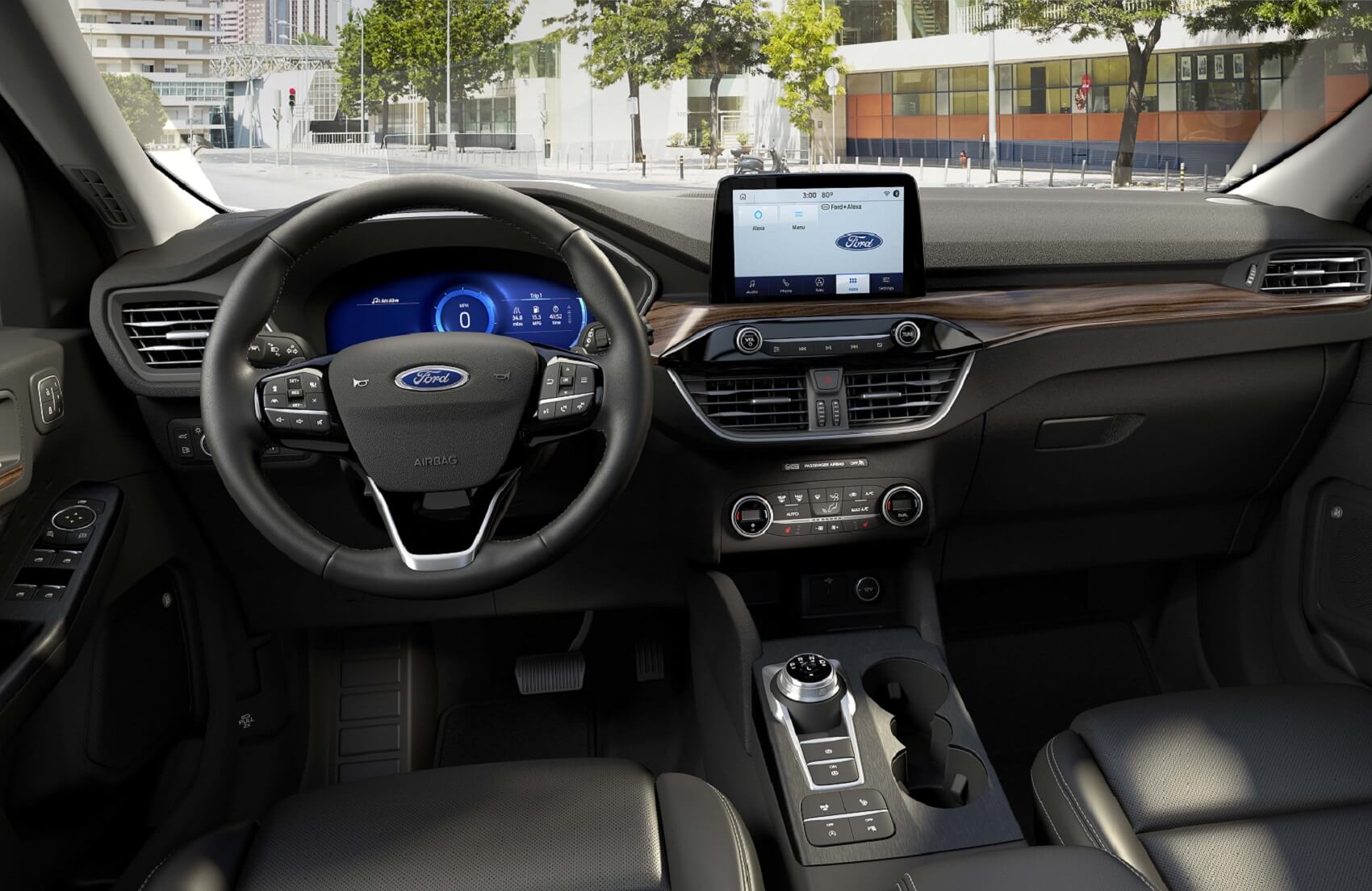 There's no doubt that both the Escape and Rogue are progressors in the industry. This is showcased as soon as you take your spot in the driver's seat. In the cabins of each of these crossovers, you'll find helpful and convenient tools that make your drives more streamlined. This includes Bluetooth® capability, smartphone integration, voice command, and so much more.
However, one thing you won't find in the Nissan Rogue is the Ford Escape's WAZE technology. This advanced navigational system takes providing directions to a whole new level. First of all, this available system can be completely hands-free, so you can keep your eyes on the path ahead.
It also outsmarts traffic with real-time information, so you can avoid traffic jams, accidents, road work, and more. You can even collaborate with other WAZE users, optimizing your routes for just about every situation.
Though the Nissan Rogue also makes an intelligent navigational system, it doesn't offer the advancements that WAZE provides. 

2020 Ford Escape vs Nissan Rogue: Want to Learn More?
As you can see, the 2020 Escape is a worthy choice for drivers who are looking for a new crossover SUV. However, you don't have to just take our word for it.
If you happen to be in the Glen Mills, West Chester, and Malvern areas, Fred Beans Ford of West Chester has a wide range of options, packages, and trim levels available.
If you'd like to schedule a test drive, just stop by our showroom or contact us online today!