SUVs are some of the most versatile vehicles on the road. They can be designed as a family-hauler, complete with entertainment and convenience technology, or outfitted with all the equipment needed for recreational use. What sets the Ford Explorer apart, however, is its heavy-duty towing and hauling ability and array of features designed to make towing safer and more convenient.
If you're looking for adventure in West Chester, Glen Mills or Malvern, the Ford Explorer is the vehicle for you. Learn more about the 2018 Ford Explorer towing capacity and enhanced towing features here.
Ford Explorer Towing Capacity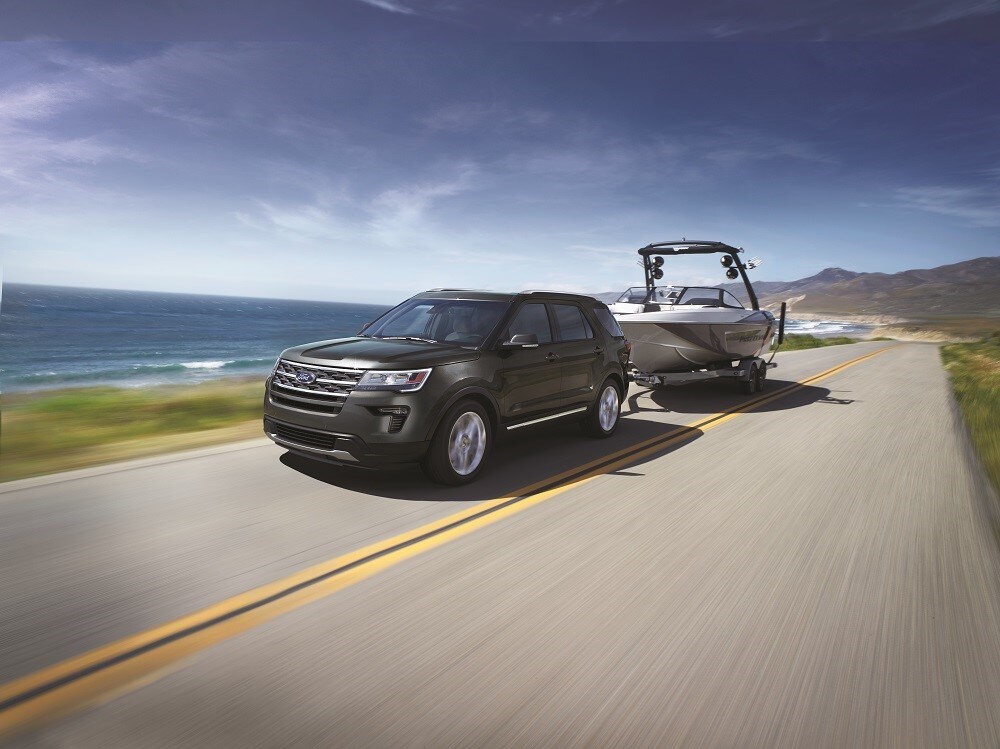 The 2018 Ford Explorer towing capacity comes from its powerful engines and towing upgrades. The 2.3-liter four-cylinder delivers 280 horsepower and 310 pound-feet of low-end thrust, giving it a tow rating up to 2,000 pounds. When equipped with the Class II Trailer Tow Package and its tow hitch, wiring harness and engine oil cooler, however, this rating jumps up to 3,000 pounds. This is enough to tow a small boat, pop-up tent trailers or a lightly-loaded utility trailer.
The twin-turbo 3.5-liter V6 produces 365 horsepower and 350 pound-feet of torque and comes standard with all-wheel drive. With the Class III Trailer Tow Package and its weight-distributing hitch, this engine is capable of towing up to 5,000 pounds. This is enough to tow a recreational boat, a smaller, hard-side RV or a trailer loaded with snowmobiles, watercraft or ATVs.
Ford Explorer Off Roading
Another perk of the Explorer is its excellent off-road capability, thanks to a number of enhanced traction and stability features. When it comes off the trails for the heavy hauls, these same features make it more capable and safer for towing as well.
The multi-traction drive system with Terrain Management adjusts the power distribution and braking for mud, sand, ruts and snow-covered roads with ease, which also helps it maintain control of a tow trailer in harsh conditions. It also has Hill Descent Control, which holds the vehicle's position on grades and helps keep the weight of the trailer under control.
Safe Towing
Many advanced safety features are available for the Explorer, including blind-spot monitors, lane-departure warning, lane-keep assist and adaptive cruise control. In normal conditions, these features are helpful when driving a large vehicle, but with a trailer in tow, they can be life-saving. Passing and merging can be one of the most hazardous aspects of towing, but these features ensure that you're aware of what's around your vehicle and the trailer.
The Explorer is also equipped with trailer-sway control, which modulates the engine power when it detects movements from the trailer to keep it stable. Curve Control is another helpful feature for towing, as it reduces the engine power when you enter a curve at too high a speed and applies the brakes to maintain control of the vehicle and attached trailer.
Visit Fred Beans Ford of West Chester
The Explorer not only has incredible towing and hauling capabilities, but it also has the optional towing upgrades and safety features to ensure that your towing is always safe and convenient. If you want to experience the 2018 Ford Explorer towing capacity for yourself, call or visit Fred Beans Ford of West Chester today!