Let's be honest: people who drive light duty pickups are notoriously specific about what they want in a truck like this. Not only does it have to have solid technology, it's got to be the best performing vehicle on road and off, with outstanding power and towing capacity. Drivers in Glen Mills, Malvern and Newtown Square want a vehicle that's going to be a real work horse, but also great for daily use.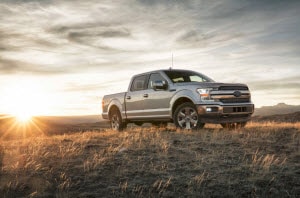 It's true that both the Ram 1500 and the Ford F-150 meet these criteria well, but in the end, one truck definitely comes out as the better truck. Discover the range of features and performance statistics that put the 2018 Ford F-150 ahead of the Ram 1500 in a direct side-by-side comparison.
Contact us with any questions. We are happy to assist you!
Ford F-150 vs Ram 1500
Performance and power are the first things a pickup driver wants to see in their vehicle. Drivers that are looking for power tend to find it's very hard to beat the 450 horsepower with 510 pound-feet of torque that you get from the F-150's turbocharged 3.5-liter V6 engine. The Ram, even at its top level engine, can't beat it. In fact, the gas-guzzling V8 engine in the Ram only gives you 395 horsepower with 410 pound-feet.
The Ford not only offers a more powerful engine, it offers best-in-class towing capacity of up to 13,500 pounds when properly equipped, and best-in-class EPA-estimated fuel economy. There's exactly zero aspects of performance where the Ram can claim top dog.
Technology Features
Once again, the Ford comes up aces in technology. The Ford Sync 3 system is one of the best infotainment interfaces on the market with an available 8-inch touchscreen, Android Auto and Apple CarPlay for full smartphone app integration, features that aren't available on Ram at all, let alone on the 1500.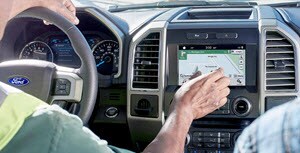 Looking for the best in a sound system? Once again, you can't beat the Ford-update your truck to a whopping and booming eleven-speaker sound system, one more speaker than the Ram's top-of-the-line 10-speaker system.
Safety Features
Once more, we've got higher end safety ratings from the F-150, which has gotten high marks from both the IIHS and the NHTSA, with features like a rearview camera, blind-spot monitoring, lane-departure warning, and a surround-view camera, plus available automated parking function.
The Ram does have a rearview camera. It just doesn't have all those other great features.
Options, Upgrades and Customization
Looking to upgrade your engine? Ford is ready to offer you a massive five choices of engine options for its truck, with a choice of six-speed or ten-speed transmission, whereas Ram only gives you three options, and they're all paired to an eight-speed transmission.
Check Out the Ford F-150 at Fred Beans Ford of West Chester
Looking to check out the best-in-class performing light duty pickup? Forget the Ram; the Ford F-150 has everything you could ever want in a vehicle of this class. From performance features to engine power to technology to safety and options for upgrades and customization, it's all ready to go.
To take a test drive of the new F-150 in Glen Mills, Malvern and Newtown Square, stop into Fred Beans Ford of West Chester today!