There are few vehicles more reliable for hard manual labor than a good truck. Trucks have been workers' go to choice for decades, and the modern era is no different. If you need a vehicle to haul cargo for work or for some adventures of your own, a truck will get the job done. With so many trucks available, however, choosing the right one can be difficult.
Two of the best options for truck drivers right now are the 2017 Ford F-150 vs Toyota Tundra. Both of these incredible vehicles host many features and impressive capabilities that have been useful to drivers in the Newtown Square, Glen Mills and Malvern areas, but only one can be the best. Consult our helpful comparison to learn the differences between the 2017 Ford F-150 vs Toyota Tundra, and discover which truck is best suited for your needs.
Capability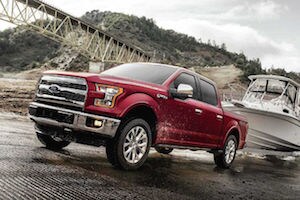 One of the most important aspects of a truck is what it can do for you. For what trucks do best, the F-150 outperforms the Tundra in both towing and payload capacity. It can tow up to 12,200 pounds while the Tundra's max towing is 10,300 pounds. That's only about 1000 pounds more than the best SUV's capabilities.
The F-150 wins out in payload capacity as well when comparing the V8 models. The Tundra can carry up to 1,990 pounds while the F-150 can carry up to 2,060 pounds. That small discrepancy can make all the difference in some situations.
Ford F-150 vs Toyota Tundra Interior
How hard your truck can work for you is extremely important, but hard-working truck drivers also deserve some comfort in their lives. Fortunately, the F-150 can provide. With an inch of headroom more than the Tundra, the Ford will provide a more comfortable and spacious ride.
The F-150's SYNC 3 infotainment system provides an experience the Tundra can't compete with. SYNC 3 allows access to your favorite music, calling, messaging and even available navigation. You can connect your smartphone to your truck and access some of your favorite apps with voice recognition software, so you can keep your eyes safely on the road.
Performance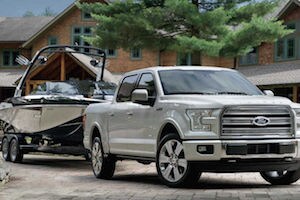 Any good truck needs to perform well, and both of these trucks are powerhouses. The Tundra's 381 horsepower 5.7-liter V8 engine will reliably get you where you need to go. However, the F-150 maxes out at 385 horsepower with its 5-liter V8 engine.
Unlike the Tundra, the F-150 can come with a V6 engine. While the horsepower is decreased, fuel efficiency is maximized at an EPA-estimated 19 mpg combined compared to the Tundra's EPA-estimated 15 mpg combined. However, when comparing the V8 versions of both trucks, the F-150 still comes out on top with an EPA-estimated 17 mpg combined.
Test Drive the 2017 Ford F-150
Still have questions about the Ford F-150 vs Toyota Tundra? At the end of the day, the 2017 Ford F-150 can most likely serve your needs better than the Tundra. Its increased capability and performance set it apart as one of the best trucks available. For drivers in Newtown Square, Glen Mills and Malvern, Fred Beans Ford of West Chester is excited to offer the 2017 Ford F-150. Come experience all the F-150 can do for yourself. Our dedicated team is always happy to offer all the help you need to determine if is is right for you. Visit us or call (888) 851-3306 to schedule your test drive today!