Compact sedans are holding on as some of the most popular vehicles on the road,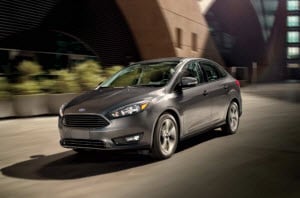 despite the rising popularity of crossover SUVs. Many people still view these vehicles as the best economical option for getting around, whether it's heading to work or taking a road trip. That's why sedan manufacturers keep working to improve their offerings for technology and comfort, as well as convenience and fuel efficiency.
Among the best small sedans on the road are the Ford Fusion and the Chevy Cruze. Drivers in Newtown Square, Glen Mills, and Malvern often wonder which of these is the better car for their everyday needs. Let's examine what each small sedan has to offer in a comparison between the Ford Fusion vs. Chevy Cruze for the 2018 model year, and where to take a test drive today.
2018 Ford Fusion vs Chevy Cruze
This, year, both the Ford Fusion and the Chevy Cruze hit showroom floors largely as carryovers from 2017. There's very little new to report on any level, though the Cruze does offer its diesel engine on its hatchback model, which was not an option last year.
The base engine for the Chevrolet Cruze is a 1.4L turbo 4-cylinder engine, which is able to generate 153 horsepower and 177 lb-ft of torque. As for the 2018 Fusion, the base engine is a 2.0L 4-cylinder, which is more powerful, offering 160 horsepower. Plus, the 2018 Fusion also offers an optimized 2.5L Duratec® 4-cylinder engine, which can generate up to 175 horsepower. It's also available in an all-electric version, which puts out 143 horsepower and delivers 184 lb-ft of torque, and has a range of 115 miles. 
The 2018 Cruze does not offer an all-electric option at all. 
Safety Ratings
The new Ford Fusion outperforms the Chevrolet Cruze in safety ratings. It has earned a 5-Star Overall Rating from the National Highway Traffic Safety Administration (NHTSA), as well as being awarded a 2017 TOP SAFETY PICK from the Insurance Institute for Highway Safety (IIHS). These awards, in part, are due to the Ford Fusion's myriad of safety features which includes inflatable rear safety belts, a standard rearview camera, available Cross-Traffic Alert, and the available Pre-Collision Assist with Pedestrian Detection.
While the Cruze offers a range of great safety features, including a rearview camera, the airbag system isn't nearly as technologically advanced as that available in the Ford Fusion. In addition, post-crash telematics and emergency assistance aren't available at the standard level of Cruze, and can only be had with an OnStar® subscription. 
Comfort Comparison
The Ford Fusion has plenty of space inside, offering 44.3 inches of front legroom and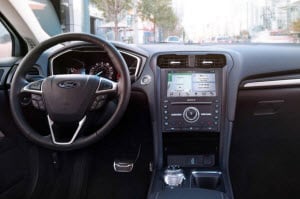 38.3 inches of legroom in the back, as opposed to the 42 inches of front legroom and 36.1 inches of rear legroom in the Chevy Cruze. In addition, the 2018 Fusion has 16 cubic feet of trunk space, which is larger than the 14.8 cubic feet of trunk space available to 2018 Cruze drivers.
The Winner: The Ford Fusion at Fred Beans Ford of West Chester
The winner of the Ford Fusion vs. Chevy Cruze battle is clearly the Ford Fusion. When it comes to smaller cars, it outperforms the Chevy Cruze in comfort, engine power, and safety ratings. If you're around Malvern, Glen Mills, or Newtown Square, test drive the 2018 Ford Fusion at Fred Beans Ford of West Chester today.