Settling into the right sedan can help you get the most out of your routine trips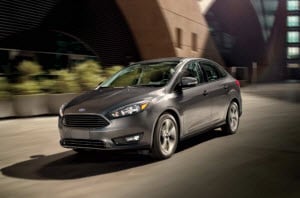 throughout the streets of the Newtown Square, Glen Mills, and Malvern areas. However, when you're searching, and you're stuck between choosing the 2018 Ford Fusion vs. 2018 Chevy Malibu, you've got some tough decisions to make. However, at Fred Beans Ford of West Chester, we're here to help you learn more, so you can decide for yourself.
We're going to compare the Ford Fusion vs. Chevy Malibu through a variety of categories to help you get a sense of what each sedan brings to the table. We'll look over the power and performance options, the cabin space and comfort, and we'll even take a peek at the entertainment and technology features that are equipped with each vehicle. Using the information you learn from this sedan comparison, you'll be able to see which vehicle is right for you. Contact us today to see one for yourself!
2018 FORD FUSION

2018 CHEVY MALIBU

Base Level Horsepower

175

160

Highest Optional Horsepower

325

250

Front Legroom

44.3 inches

42 inches

Rear Headroom

37.8 inches

37.5 inches

Trunk Space

16 cubic feet

15.8 cubic feet
Power & Performance Options
The 2018 Ford Fusion is outfitted with a 2.5L 4-cylinder engine that's capable of delivering 175 horsepower. The Chevy Malibu features a 1.5L turbo 4-cylinder engine that produces 160 horsepower. When it comes to the different options of power, the Ford takes the lead with its 2.7L EcoBoost® V6, which is capable of 325 horsepower and 380 lb-ft of torque. The 2.0L turbo 4-cylinder engine, featured as an option with the Chevy Malibu, maxes out at 250 horsepower and 260 lb-ft of torque.
Cabin Space & Comfort
When it comes to the Fusion vs. Malibu in terms of space, it's actually the Fusion that holds all the cards. Each vehicle does offer a spacious cabin, but it's the Fusion that features more space for each passenger. This is undeniably noticeable with front legroom, which the Ford sedan has a 2.3-inch advantage with 44.3 inches offered to passengers. The same goes for the rear legroom, which the Fusion offers 38.3 inches, but the difference isn't as gaping because the Chevy Malibu has 38.1 inches of rear legroom. Lastly, the Ford Fusion offers 16 cubic feet of space with its trunk, which is more spacious than the 15.8 cubic feet offered by the Chevy Malibu.
Entertainment & Technology
The 2018 Fusion comes equipped with the dashboard-mounted SYNC® system, which is the command center for your entertainment features. This screen even features voice recognition, allowing you to select your features without having to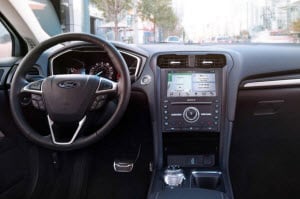 manually select them from the screen. Each vehicle features an AM/FM radio, but the Ford model also includes a CD/MP3 player. When you upgrade either vehicle, you can include a trial subscription of SiriusXM®. This subscription lasts for six months with the Fusion, but only three months with the Malibu.
Taking a Closer Look
Our team at Fred Beans Ford of West Chester hopes that you found this comparison of the 2018 Ford Fusion vs. the 2018 Chevy Malibu helpful. You got a great sense of what each vehicle offers, and the way the Ford Fusion simply offers more at its base level. However, instead of just taking our word for it, why not see the Fusion for yourself and even get behind the wheel to experience it on the road?
We're proud to help drivers in Newtown Square, Glen Mills, and Malvern learn more about the vehicles they're interested in, so they can make the choice that's right for them. Schedule an informative test drive with us today!