If you're a car owner living in Newtown Square, Glen Mills, or Malvern, you might be wondering how long your vehicle's tires last. You might be surprised to find out that there isn't one easy answer to this question. However, we at Fred Beans Ford of West Chester have taken it upon ourselves to give you the information you need about your tires and the tire changing process.
In this guide, you'll learn about tire ratings, the factors that affect your tires' lifespans, when you should think about getting your tires changed, and more. Let's get started by looking at tire ratings...
Ratings: How Accurate Are They?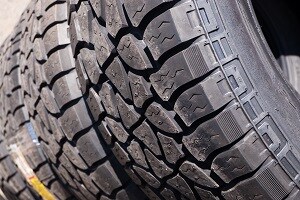 The first thing you should know about tire ratings is they're all very similar, with most tires being rated to last up to 50,000 miles. The second thing you should know about tire ratings is that they're performed under perfect road conditions and ideal driving practices.
What this means is that if you're not always using ideal driving practices or driving on perfect road conditions, your tires won't make it to 50,000 miles. Life conditions, like extreme weather and several other factors, will reduce that number to around 20,000 or 30,000 miles.
What's Your Driving Like?
One factor that greatly affects your tires' lifespans is your personal driving style. For instance, driving with underinflated tires for any span of time can affect how long your tires are good for. Another driving habit that's bad for tires is driving with a crooked alignment.
One last driving habit that can drastically reduce your tires' lifespan is accelerating or braking quickly enough to cause friction between your tires and the ground. Laying a patch, as it's commonly referred to, can cause your tires to bald at a fast-tracked rate and make it so you have to change your tires more often.
How Can I Check to See if My Tires Need to Be Changed?
If you think it may be time to have your tires changed, there's an easy way that you can check at home before you go ahead and make a service appointment. All you need is a penny.
Take your penny and, with Abraham Lincoln's head pointing away from the center of wheel, stick it in between the two lips of the tire's tread. Then, look for the top of Lincoln's head. If you can see it protruding over the edge of the tread, then you need to get new tires soon.
While this test won't work for every single tire because of the variation between tire brands and requirements for your specific vehicle, it's a helpful way to get a rough estimate of the shape that your tires are in. To get a clearer idea of when you'll need to get new tires, you'll want to ask a maintenance professional.
Need Your Tires Changed?
Drivers in Newtown Square, Glen Mills and Malvern can count on our service team at Fred Beans Ford of West Chester to provide quick and friendly tire advice and service. Give us a call today with any questions you may have or to schedule a service appointment!