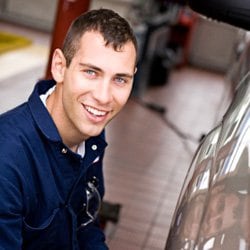 Vehicle ownership can bring convenience to a driver's life, but with it comes great responsibility. All automobiles require routine maintenance and occasional repairs, and it's important to use high-quality parts with each service appointment. While aftermarket parts are readily available online, OEM parts are the better choice in almost every situation. Below are several reasons why the parts center at Fred Beans Ford of West Chester-serving drivers in Newtown Square, Malvern, and Glen Mills-uses OEM parts for maintenance and major repairs.
Safety
Producers of aftermarket auto parts, whether they make performance parts or budget-friendly replacements, don't have the same obligations as automakers have where production safety is concerned. When a customer buys aftermarket parts for their vehicle, materials may be weak or the parts may have a short lifespan, increasing the risk of mechanical failure or an accident. It's important to use factory parts to keep drivers and passengers safe, and to keep vehicles running properly.
Quality
When buying parts online or at the local automotive parts store, it's difficult to determine what someone is getting. The materials used in aftermarket parts aren't always the same quality as that in OEM parts, which means they'll fail sooner and at higher rates. Be sure to use factory parts for top performance and maximum fuel efficiency.
Correct Fit
Another issue with aftermarket auto parts is improper fit. Manufacturers often attempt to craft parts that work on multiple vehicles, which means that the user may have to do some modifications during the installation process. By using Ford OEM parts, drivers are assured of proper fit and function.
Reliability
While it's possible to perform long-lasting repairs with aftermarket parts, OEM parts are known for their reliability and durability. They're made in the same factories as the vehicles themselves, and as such, they're better suited for warranty service, routine maintenance, and dealership repairs.
Visit Fred Beans Ford of West Chester Parts Center Today!
For the safest and best running vehicles in Glen Mills, Malvern, and Newtown Square, it's best to use quality Ford parts during maintenance and repairs. Local Ford drivers can count on the parts center at Fred Beans Ford of West Chester for all their auto care needs. Call or click today to schedule a service appointment.