While we all may say that we're trying to cut back on our sugar intake, when something truly sweet comes along, it can be pretty hard to ignore. This is especially hard for those living in West Chester, PA.
For the sake of satisfying your sweet tooth, we put together a convenient rundown of the best places to get your fix.
Country Bagel & Bakery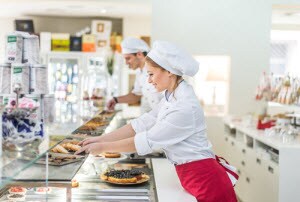 When you think of eating something sweet, a bagel is probably not the first thing to come to your mind. Country Bagel & Bakery is challenging that stereotype by spoiling locals with much more than your generic bagel with cream cheese schmear.
With an extensive breakfast and lunch menu full of both sweet and savory treats, it can be hard to choose. Luckily, Country Bagel & Bakery gives people a helping a hand with this decision by offering amazing seasonal goodies. Expect pumpkin spice cream cheese in the fall and red velvet muffins, cookies, and much more in the winter.
Dia Doce Gourmet Cupcakes
Dia Doce Gourmet Cupcakes offers sweetness, sweetness, and more sweetness in the form of cupcakes. In addition to serving 17 classic flavors that are available year-round, they're stocked with special weekly flavors and seasonal flavors, like lemon & lavender for spring and apple crisp for fall.
The best part about this sweet little shop is the fact that sometimes, it will bring itself to you in the form of a lime green food truck. The Dia Doce truck is known to participate in public events, but if you're worried about when you might get your next cupcake fix, take matters into your own hands by renting it for your own special event.
Popcorn Obsession
If you've never been to Popcorn Obsession, you're probably thinking, Popcorn? That's not a sweet food! Well, we're here to tell you that this strictly popcorn shop has flipped the popcorn game upside down. Not only do they offer traditional savory popcorns in a variety of colors and flavors-like Old Bay, dill pickle, and loaded baked potato-there's more than a few sweet options as well.
Popcorn Obsession's personal portion bags are good as a snack to tide you over between meals. However, southeastern Pennsylvanians find that tin-sized portions of these treats make great gifts. Snag a tin of cherry cordial drizzle popcorn for the holidays or some birthday cake popcorn for someone's special day.
Happy snacking!