Welcome to Fred Beans Ford of West Chester! Our team of automotive experts is here to help you navigate the process of finding a car that you'll love driving around Newtown Square, Glen Mills, and Malvern for years to come. If you're on the hunt for a great used car, you're in the right place. We've put together this helpful used car checklist to guide you through all the important things you'll need to be aware of before making a used car purchase. Contact us to learn more.
Before You Test Drive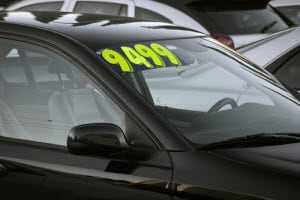 Before you even get behind the wheel of the car, you'll want to do a couple quick checks to make sure the car is in great shape.
Check Your Budget: Before you even begin shopping, you'll want to set a budget for your purchase. Check the price of the car to make sure you can afford it. Don't forget to account for the price of fuel and insurance!
Look Under the Hood: Lift up the hood of the car and give it a good once-over. Check for any signs of rust or excessive dirt, and ask for information about the car's most recent inspection and if there are any maintenance services or repairs that still need to be addressed.
Check the Cabin: Take a look around the whole cabin, sitting in all of the seats, and keeping an eye out for any broken parts, holes, or stains in the upholstery. Look out for any strange smells or other signs of wear.
Check the Dashboard: Are any indicator lights on the dash illuminated? You don't want a car with pre-existing issues!
During Your Test Drive
Take a Listen: When you first turn on the engine, pay attention for any strange sounds that could indicate a mechanical problem.
Check the Brakes: Listen for squealing and feel for vibrations when you brake. Make sure the brakes feel firm and competent.
Accelerate: Try the car out at a variety of speeds during your test drive. Get on the highway and bring it up to 50, 60, and 70 MPH, paying attention to how the engine sounds and feels.
Check Equipment: Check out all the car's technology and other equipment, including the air conditioning, heating, the CD player, radio, and any other systems.
Find Your Used Car
Ready to get started on your search for the ideal used car? Contact Fred Beans Ford of West Chester today to schedule a test drive, and get ready to hit the streets of Newtown Square, Glen Mills, and Malvern!